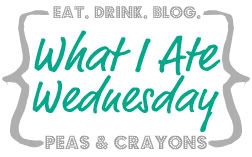 So far, my WIAW posts have documented my typical weekday eats, which tend to be pretty healthy. So I thought it would be fun to mix it up with a post about what I ate on a weekend instead. Here's what last Friday looked like, cheat meal and all (unfortunately, I only photographed my dinner and dessert, so the rest of the pics are from company websites).  
Breakfast
I had picked up my friend from the airport at 2 a.m. the night before so I ended up crashing at her place. Her family is on vacation so there was not a lot of food in her house, resulting in a morning Starbucks run. I ordered a spinach, egg white and feta wrap and a non-fat cafe misto.
Lunch
After breakfast, we went shopping for a few hours, then hit the food court for lunch. I went to Druxy's and ordered a chicken guacamole sandwich. This was a simple and fresh sandwich with two slices of multigrain bread, grilled chicken, tomato, lettuce and lots of guac. A few hours later, I had another cafe misto; what can I say, I'm not used to staying up past midnight!  
Snack
In the afternoon, we went for a run. Afterwards, I re-fuelled with a candy bar granola bar since my food options were limited. There was a box of 100 calorie Sweet and Salty Almond bars in the cupboard so that's what I ate.
It was pretty yummy but I was hungry again within an hour. Do people honestly believe these things are healthy?
Dinner
In the evening, we headed to Toronto for Indian food at the greatest Indian restaurant in the GTA – Kama Sutra. It's pretty bold to name your restaurant after a book of sex positions but it's totally accurate; the food really is orgasmic. We split an order of brie pekoras (if you've never had these before, just imagine cutting open a regular pekora and melted brie cheese gushing out of it) and butter chicken with Naan bread and rice.
This is definitely a contender for what I would eat for dinner if I were being executed the next day. And I'd have the whole thing to myself… no halfsies.
Dessert
After dinner, we walked to Hollywood Gelato for a little treat. I love Hollywood because you can pick up to three flavours to try per cup.  
In my cup – peanut butter, cookies 'n' cream and coconut cream pie.

And that is how you give your metabolism a workout