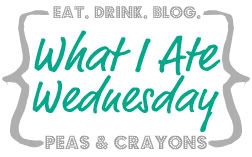 As I wrote yesterday's post about dumb things I used to believe about fitness, I also got to thinking about some of my old eating habits. Back in University, I shared an apartment with my sister. At the time, I had two things working against me when it came to healthy eating - I didn't know how to cook and I had limited knowledge of proper nutrition. Here's what a typical day under these circumstances looked like:
Breakfast
My typical breakfast was two slices of toast with peanut butter and a glass of skim milk. I know it sounds pretty similar to what I eat for breakfast these days but there was one key difference - I used to eat low fat peanut butter because I thought it was healthier. Oh, how I would love to go back in time and slap some sense into my 22-year-old self. After force feeding her a heaping tablespoon of delicious, full fat nut butter, I would then tell her that eating fat doesn't make you fat and that reduced-fat products are typically loaded with sugar to make them taste good.
Lunch
One of my favourite lunches was pasta with rosee sauce. I had no concept of portion control back then so I would literally dump half a box of penne (whole wheat at least – I guess I get some points for that) into a pot of boiling water and drench the finished product with half a tub of rosee sauce. As if that weren't enough carbs for sitting, I would usually have a granola bar for dessert (and not even one of the low calorie ones, but those Nature Valley ones that are like 200 calories a pop).
Dinner
What do you mean this heaping plate of greasy noodles isn't healthy?!?
This could vary wildly. My sister and I lived downtown Toronto, so we would often go out for dinner where I'd consume a massive portion of pad thai or butter chicken. In my mind, these were perfectly healthy food choices and wouldn't make me fat because they weren't fast food.  Again, no concept of calories in vs. calories out. I figure I probably ate around 2,000 calories for dinner quite a few nights each week.
The funny thing is, I would never, ever order dessert because I equated cake with weight gain. Today, with my knowledge of calories, I know that I can certainly enjoy cake and other desserts in moderation. In fact, dessert might be the least damaging item on the menu depending on where you eat. Consequently, I eat way more cake these days than I ever did when I was at my heaviest weight. Oh, the irony.
Frozen chicken fingers… my main source of protein!
When I wasn't gorging on restaurant food, I would usually pop something frozen in the oven. On these nights, I ate a reasonable amount of calories but it was all meat and/or carbs. It was also loaded with sodium and contained a very long list of unpronouncable ingredients.
Snacks
Sometimes, I went through a healthy phase where I would pick up some fruits and vegetables to snack on between meals. Most days, however, I didn't plan out my snacks. Instead, I snacked when I felt like it, usually out of boredom, and my snack of choice was a cookie (or two) from Starbucks.
So there you have it – my old diet, characterized by too many calories, too many carbs, limited fruits, vegetables and protein and wayyy too much sodium. The sad thing is, at the time, I had no idea why I was gaining weight. In my mind, I thought I ate fairly healthy because I didn't eat fast food or excessive sweets. I really didn't think I ate too much so I believed that I just wasn't meant to be thin.
Gaining a solid understanding of calories and nutrition was a game changer, as was learning how to cook. It makes me wonder how many other women are eating similar diets to my old one and can't figure out why they are gaining weight.   
Was there ever a time when you didn't eat healthy? What was your old diet like and how did you go about changing it?