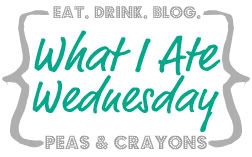 I considered skipping out of What I Ate Wednesday this week because I've already shared my eats from the weekend and yesterday's meals were completely random. But then I figured, hey, WIAW is all about creeping other people's eating habits and sometimes I don't eat perfectly planned meals and snacks. So here is a play by play of yesterday:
5:45 – wake up, eat half a banana and head out for a 40-minute run. I haven't done a pre-work run in months, mostly because it was too dark outside at 6 a.m. and I was terrified of either tripping on something or getting murdered. The sun was already up by the time I headed out and the weather was beautiful – great way to start the day.
6:40 – shower and eat breakfast – the rest of the banana sliced with peanut butter and cinnamon on P28 toast and a glass of skim milk. (By the way, I am using all recycled pictures for this post – hence the February date in the top left hand corner!)
8:00 – leave for work
9:00 – arrive at work and enjoy a much needed cup of coffee
10:30 – snack time! I have an apple and a piece of cheese string
12:30 - for lunch, I reheat leftovers from Monday night - Mexican Poblano-Stuffed Peppers:
2:00 – lunch didn't really hit the spot and I'm a little hungry again, yet I don't want to eat my afternoon snack just yet. On top of that, I have hit a huge motivational slump and don't feel like doing any work. It's around this time that the leftover cheesecake from yesterday's potluck is practically screaming at me from the fridge to come and grab a piece. However, one habit that I try to avoid is eating junk food out of boredom, which I used to do all the time. I manage to resist the cheesecake craving and dig around my desk until I find a half-eaten All Bran bar. That'll do.
Miraculously, this staves off my hunger and the 2:00 slump eventually passes. By 3:00, I am once again a productive member of society.
4:00 – finally, my real snack – Greek yogurt with blueberries and granola
5:45 - arrive home from work with literally 15 minutes to spare before I have to pick up Josh from the train station so we can meet with a mortgage broker (we're shopping around for a better rate). I inhale a P28 bagel with almond butter and sliced strawberries – not the most conventional dinner but I was in a rush and I knew the high protein content would keep me full for the evening. Nothing worse than sitting in a meeting and trying to pay attention when all you're thinking about is how hungry you are.
8:30 – after dropping Josh off, I tutor math for an hour. Gotta crack a dent in that mortgage!
9:30 – arrive home, eat a little treat (chocolate VitaTop with ricotta cheese), read in bed for a bit and PTFO.
So, yeah, a pretty hectic day yesterday and I'm glad it's over. I have nothing scheduled for this evening so I'm planning to do BodyPump and maybe a yoga class. Which means I can relax this morning – yay!
What's your go-to dinner when you're in a mad rush?