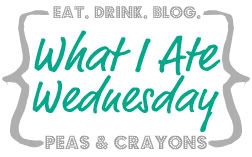 The best thing about long weekends is that the following work week seems that much shorter. Is it seriously Wednesday already?!?
For today's post, I'm recapping my eats from Saturday because, well, they are the most interesting from the past week. Also, my weekend eating habits are typically a little different from my weekday eating habits (larger meals, smaller snacks and usually more treats and refined carbs than during the week) so sometimes it's fun to recap.  
As always, thanks to Jenn for hosting!  
Breakfast
As usual, I woke up way before my alarm went off (6:00 a.m. on a Saturday morning – what the eff is wrong with me?!?) and made breakfast – a P28 bagel with almond butter and sliced strawberries. I went to a Hatha Yoga class at 10 a.m., followed by BodyAttack at 11:30 and ate a banana between the two classes to tide me over.
Lunch
When I got back from BodyAttack, I threw together the most random but satisfying lunch ever – egg whites on P28 toast, a spinach, avocado and grape tomato salad and steamed sweet potatoes. In between lunch and dinner, I had a tall skim latte from Starbucks. 
Dinner
Josh and I went to Pepperwood Bistro and shared a Curried Chicken Pizza. This was definitely one of the more interesting pizzas I've ever tasted – it was topped with mashed chickpeas, curried chicken, mozzarella cheese, scallions, sweet potatoes and apparently a red curry sauce although I really couldn't taste (or see?) any sauce. I enjoyed it for the novelty but probably wouldn't order it again.
Oh, and I also had two slices of bread with hummus, olive oil and balsamic vinegar – a heavenly combo that I highly recommend you try. I'm amazed that I was able to shut it down after two slices (the basket they brought us pretty much had an entire loaf in it).
Dessert
I'm usually the one who forces Josh to share gently suggests dessert whenever we go out for dinner, but Josh is obsessed with the sticky toffee bread pudding at this restaurant so it was actually his idea to order this to share. I still had some room left after dinner so I happily agreed.
So those were my eats for Saturday. By contrast, yesterday I ate a similar breakfast (P28 toast with banana and peanut butter and a glass of skim milk), a lighter lunch (sesame chicken with brocoli and beans), a lighter dinner (spaghetti squash baked with tomatoes, navy beans and cheese) and more substantial snacks (Greek yogurt and granola in the morning, a spinach, avocado and tomato salad and a Cheestring in the afternoon and a VitaTop with ricotta in the evening).
As for dessert, I used my tunnel vision to ignore the table full of cake and cookies that my co-workers brought in (offloading long weekend leftovers perhaps?). The communal kitchen is unfortunately en route to the bathroom, so every time a co-worker decides to bring in treats (which is quite often in my office) I'm tempted by sugary goodness everytime I go to the bathroom (which is also quite often). Incidentally, knowing I'll be able to fully enjoy and really savour a decadent treat on the weekend really helps me stay on track throughout the work week.
Do your weekend eating habits differ from your weekday eating habits?
How do you keep your sweet tooth in check?