Hey there Saturday!
Glad you guys liked yesterday's post – usually when I have to try that hard to motivate myself to work out, I end up skipping it – no point forcing a workout when you're really not feeling it, especially since I'd already had a pretty active week. But it was such a beautiful day yesterday, I know I would have regretted sleeping in and missing out on the chance to get outside first thing in the morning.
I also got to enjoy the weather in the evening – Josh and I hit up a patio and enjoyed some wine over dinner, then went for a walk by the lake. It was an absolutely perfect evening.
Last month, I went on a bit of a recipe bender after buying a new cook book. Well, this past week, my enthusiasm for cooking seemed to disappear so I went back to basics – instead of getting all recipe happy, I prepared simple meal combos made up of protein, fat and carbs and made sure to get a serving of vegetables in with each meal. Here's what that ended up looking like:
Sesame Chicken with Broccoli and Beans
Spaghetti Squash with Tomatoes, Beans and Cheese (mom cooked)
Grilled Chicken and Avocado Salad with Baked Sweet Potato
Egg white, feta and spinach wrap from Starbucks and sliced avocado
For most of the above meals, I made multiple servings and just cycled them throughout the week so I wouldn't get bored. Eating healthy really doesn't have to be all that time consuming or complicated.
That being said, I feel like cooking again so I have a few recipes I'm going to be making this week.
As for workouts, Sweat It Out Saturday is back this week. Make sure you head over to The New Healthy to link up your workouts and get some great workout ideas. Thanks Stefanie for hosting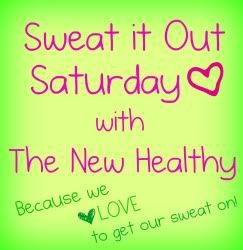 Sunday – RPM
Monday – Hot Yoga
Tuesday – BodyCombat
Wednesday – BodyPump
Thursday – Rest
Friday – 30 minute run
Saturday – BodyPump
I had a pretty active week this week but experienced very little post-workout soreness. I've been foam rolling every night and I think that's helping a lot with post-workout recovery. That plus all of the other good stuff (eating well, getting lots of sleep, etc.)
Tonight, I'm going to a co-worker's wedding, but only for the dancing and drinks part of the evening. It'll be a late night, so I plan to make tomorrow a rest day from the gym although I'll probably hit up a gentle yoga class later in the afternoon – I haven't done a Sunday night yoga class in a long time and it's always a nice way to wind down before the work week starts up again.
Enjoy your weekends (especially those of you who have a long weekend – I'm jealous)!