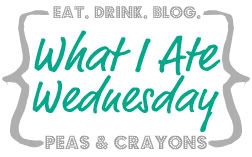 Happy WIAW! Thanks again to Jenn for hosting – I love how WIAW always brings together so many bloggers every week.
I'm especially excited for this one because I finally switched up my snacks this week. Here are my eats from Monday:
Breakfast
Even though I got over 9 hours of sleep on Sunday, I was still tired from staying out too late on Saturday night. As a result, getting out of bed to go to BodyPump was a little harder than usual so I perked myself up with a coffee run on the way to the gym. I also ate half a banana before my workout and had breakfast (crushed raspberries on P28 toast) when I got home.
Morning Snack
I'm trying to eat more vegetables (what else is new?) so I've started eating salads as a snack. Weird, I know, but I don't like vegetables unless they're cooked or served in a salad. In the mix here – spinach, avocado and grape tomatoes. I added the dressing (olive oil and lemon juice) later so the spinach wouldn't get soggy. I coupled this with a piece of cheese for some protein.  
Lunch
Leftovers from Sunday – Moroccan Stewed Chicken.
Afternoon Snack
Greek yogurt with a scoop of chocolate protein powder. This was inspired by a post I read on Nia Shanks' website – she calls it a High Protein Cheesecake Bowl, which is slightly misleading (it doesn't really taste like cheesecake – shocking, I know), but it still makes for a fairly yummy snack and it's a great source of protein.
It also gave me something to do with the last dregs of the nasty protein powder I bought a year ago from Walmart. I told myself I had to finish the entire tub before I went out and bought a better quality brand and I held myself to that. After finishing up my very last scoop, I went out and bought Sun Warrior protein powder, which has fewer weird ingredients than the brand I bought last time.
Dinner
Lemon-Garlic Shrimp & Vegetables with a side of brown rice. This was one of the first recipes I tried when I was still learning to cook and I made it so many times, I got sick of it. It's been out of my "rotation" for over a year now but I came across it while looking through my bookmarked recipes and decided to resurrect it – great idea.
Bedtime Snack
Before bed, I had a sweet potato with a wedge of Laughing Cow cheese. I'm pretty sure most diet "experts" would shake their heads at this (carbs before bed?!? OMG!!!) but I could care less… I eat carbs before bed all the time and it has no effect on my ability to lose or maintain weight. In fact, I don't pay any attention to rules about meal timing and when to eat what. My approach to weight maintenance is pretty simple – count calories, get a good balance of nutrients and eff everything else

Are there any diet "rules" you break regularly?