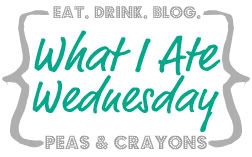 I've been looking forward to Wednesday all week, not just because it's one of my favourite days to blog (thanks Jenn!) but because I have the morning off today. My co-workers and I are attending a magazine conference in Toronto and I don't have to be there until noon. We're attending a luncheon before the afternoon sessions start, so that means I get to sleep in and eat free food (which, if it's the same as last year, includes wine and dessert). Double win!
For today's post, I'm recapping my eats from yesterday.
For breakfast, I did something radical and didn't eat nut butter and fruit on toast. Crazy, I know. In the mix here: ¾ cup Greek yogurt, 1 scoop Protein Warrior chocolate protein powder, ¼ cup Flax Plus pumpkin granola and a tablespoon of peanut butter. This is the closest I've come in recent years to eating dessert for breakfast – yummy!
For my morning snack, I revisited an old favourite – apple slices with almond butter.
For lunch, I made this recipe for a Greek-inspired salad using chicken instead of shrimp and whole wheat couscous instead of bulgur. The feta cheese was my favourite part of this meal.
In the late afternoon, I ate a baked sweet potato with Laughing Cow cheese about two hours before BodyCombat. This was a great pre-workout snack – I had a ton of energy during class and didn't feel like crashing near the end, which sometimes happens when I work out before eating dinner.
For dinner, I had walnut-crusted chicken and salad. To make the coating for the chicken, you combine 1/3 cup walnuts, 2 tablespoons of parmesan cheese, 2 slices of whole wheat bread, salt and pepper in a food processor. Dip the chicken in egg whites, coat generously and fry in 1 tablespoon of olive oil for a few minutes per side. Bake at 425 degrees for 15 minutes and you get crispy, juicy chicken.
For the salad, I mixed 2 cups of spinach, grape tomatoes, avocado and yellow peppers with 1 teaspoon of olive oil and 1 teaspoon of lemon juice. I'm obsessed with this salad and have been eating it as both a side dish and a snack for the past two weeks.
My bedtime snack was inspired by a childhood favourite. I used to love eating waffles with blueberries and whipped cream for breakfast. To make this healthified snack version, I used ricotta cheese instead of whipped cream and a whole wheat waffle. Not as delicious as the real thing (it rarely is, unfortunately) but a pretty decent substitute. 
Do you have any favourite snacks from childhood?