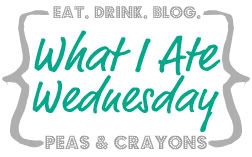 Good morning and welcome to my first What I Ate Wednesday post. I always enjoy checking out bloggers' daily eats but I'm usually too lazy to photograph and post what I eat every single day. And if you don't do it every day, what's the point of doing it at all? 
Enter What I Ate Wednesday, a weekly event where participating bloggers choose one day from the past week and post what they ate that day. I can definitely commit to one day a week, so without further ado, here's what I ate on Monday. 
Breakfast

My day started out like most – with peanut butter, banana and cinnamon on whole grain toast and a glass of skim milk. I also had an apple later in the morning.
Lunch
I'll be totally honest here – I had bread, cold cuts, cheese and vegetables in my fridge at home. But as I was leaving the gym after a particularly grueling Body Pump class at 11:30, the smell of freshly baked bread from Subway was too overwhelming to resist. Nice move on Subway's part placing their restaurant practically right on GoodLife's doorstep.

I ordered a six-inch oven roasted turkey on whole wheat bread, toasted, with lettuce, tomato, cucumbers, green peppers and extra cheese (because extra cheese trumps condiments even if it does cost fifty cents more. Besides, what's an extra fifty cents when you're already paying $6 for a stupid sandwich?). I ate this with a cup of chocolate milk as a little treat for my Pump-battered muscles.
Afternoon Snack


I always like to have a mid-afternoon snack to tide me over until dinner. On Monday, it was carrots with eggplant hummus and a handful of almonds. 
Dinner
For dinner, I tested out a recipe from Runner's World for Moroccan Stewed Chicken. I loved the flavours in this dish. It was also really easy to make and required very little prep work or clean up. Bookmarked!
Evening Snack

About two hours after dinner, I went for an easy three kilometer run as part of my half marathon training plan. Afterwards, I snacked on some mango slices. I usually eat something more substantial after a run, but I was still pretty full from dinner, plus my easy run was…. well, easy. 
And that concludes my first What I Ate Wednesday post